What is a "California Black Plate Car"?

This phrase is used alot here in California. What it means is that the car STILL bears it's original black and yellow California license plate: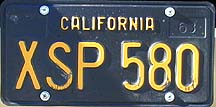 This plate was on a 1967 Jaguar XKE Roadster.
This license plate series began in 1963 (when ALL vehicles were issued the new plates) and ended in 1969. A black plate on the car AND on the title signifies that the car has been in California continuously since that plate was issued, which would be 1969 at the latest, ZZZ 999 being the last plate issued.
Contrary to popular belief, a black plate can NOT be LEGALLY applied to a car that it was not originally issued to. (Unfortunately, our Governor recently signed a bill allowing these plates to be applied to any 1963-1969 vehicle as part of the DMV's YOM (Year of Manufacture) program, thus diluting the specialness of a true California black plate car.....tragic )
Having a black plate is no guarantee that the car was originally sold in California, however. If a 1960 Ferrari lived in New York from 1960-1965, then moved to California in 1965 and stayed here, it would have been issued a black plate around RRR 000 (They were issued consecutively in alphabetical order, starting at AAA 000 in 1963). The California black plates add a very nice touch of history and provenence and also look really cool on the cars.